Careers as Change Agent: What Can You Do With a Master's in Social Work?
17 June, 2022
---
Table of Contents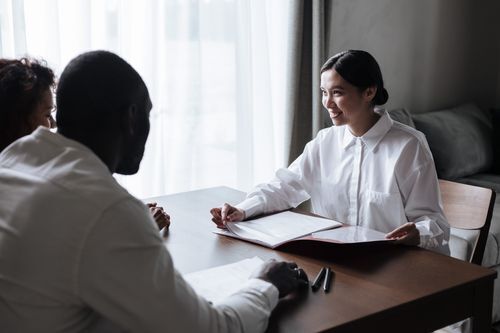 What Can You Do With a Master's in Social Work?
Social workers bring their skills to a variety of settings, including hospitals, nonprofits, government offices, and the private sector, with each role making important contributions. While social workers are in fact the largest group of mental health services providers in the U.S. — outnumbering psychiatrists, psychologists, and psychiatric nurses combined — the skills earned in a master of science in social work (MSW) program can support anyone who wants to effect positive change via their job, whether that is through social worker careers or in other professional areas.
---
Defining Social Work: An Expanded Understanding
The National Association of Social Workers (NASW) defines social workers as professionals who "assist people by helping them cope with issues in their everyday lives, deal with their relationships, and solve personal and family problems."
This definition seems simple on the surface. However, the nuances social workers encounter are vast. A person's everyday life could involve:
Facing racism when trying to obtain stable housing.
Establishing life in a new country as a refugee.
Seeking treatment for a chemical dependency while uninsured.
Coping with the trauma of attacks against people who share their race, gender, or other identifier.
The meaning of "everyday life" changes based on where a person is located, how they appear, who they love, and many other factors, several of which are beyond the control of the individual. A person's actions and choices are shaped by the systems in which they live, and those systems are built on centuries of oppressive practices. As such, social work requires:
A deep understanding of human needs and behavior.
Recognition of the ways human lives and decisions are shaped by the cultural, institutional, economic, and social systems in which we exist.
The awareness that these systems have historically excluded many members of society while uplifting others.
With such awareness, social workers serve the well-being of individuals, families, groups, organizations, and communities, taking action at the micro, mezzo, and macro levels to help others thrive.
What Is a Social Worker?
A social worker is someone who supports the well-being of individuals, families, groups, organizations, and communities, taking action at the micro, mezzo, and/or macro levels to help others thrive. Social workers must have a strong understanding of human behavior, recognize how human lives and decisions are shaped by the cultural, institutional, economic, and social systems in which they live, and remain aware that these systems have historically excluded many members of society while uplifting others.

This expanded definition not only provides a more comprehensive understanding of social work, but it points to the value in a diverse range of contexts.
---
Entering Social Work as an MSW Graduate
Social workers often describe a feeling of being called to their profession. As issues of social justice become increasingly prominent with each passing year, more people are turning a critical eye toward established ways of living that have been taken for granted. Some have been inspired into action by earning master's degrees in social work to gain the skills, knowledge, and networks to address issues within their communities. Interestingly, enrollment in social work bachelor's and master's degree programs has increased consistently over the last decade, and this metric was one of the few to rise amid a broader higher education enrollment decline from 2019 to 2020.
Graduates can expect to enter a healthy job market. The U.S. Department of Labor projects an average of 78,300 social worker careers will open each year between 2020 and 2030. Employment numbers are projected to increase by 12 percent — faster than the average rate of 8 percent for all professions — by the end of the decade. The median annual social worker salary, per the Department of Labor, was $51,760 in 2020.
Careers for Recent MSW Graduates
Careers for MSW graduates vary in terms of title and area of practice. To give you an idea of the positions available upon graduation, here is a sample of career outcomes for the 2019 Columbia MSSW class of 2019, organized by practice method:
Advanced Generalist Practice/Programming
Advanced Clinical Practice

Behavioral Healtchare Manager
Client Care Coordinator
Clinical Case Manager
Forensic Social Worker
Program Manager
Vocational Rehab Counselor

Clinical Social Worker
Clinical Forensic Specialist
Medical Social Worker
Post-MSW Fellow
Therapist/Psychotherapist
School Social Worker

Policy Practice
Social Enterprise Administration

HPD-HPC Housing Fellow
District Representative/Caseworker
Policy Advocate
Policy Analyst
Program Coordinator
Research Analyst

Advisory Services Associate
Company Relationship Associate
Corporate Social Responsibility Manager
Data and Evaluation Analyst
Director of Outreach and Volunteerism
People Operations Coordinator
Licensing
Licensed Clinical Social Workers (LCSWs) are advanced professionals trained to deliver higher-level clinical services and/or provide individualized psychological services. Licensing requirements vary by state, but the majority require applicants to complete a master's in social work program and have two or more years of clinical experience.
Growing Your Social Work Career
As you gain years of professional experience, understand more about the areas of social work in which you excel, or perhaps find yourself continuing your education, you can find opportunities to advance your career or specialize in a specific area of social work. With the right experience or supplemental education, you can expand your career options to a bevy of other opportunities.
Below are titles from job openings listing social work experience as either a requirement or an advantage*, separated by employer mission:
Child Welfare and Protection
Children and Family Services

Early Intervention Specialist
Foster Care Case Manager
Child Protection Investigator

Family Support Specialist
Director of Family Programs

Diversity, Equity, and Inclusion
Education and Educational Access

K-12/Secondary School Counselor
Special Education Advocate

Health, Mental Health, and Well-Being
Human and Civil Rights/Social Justice

Licensed Mental Health Therapist
Medical Social Worker

Refugee Employment Specialist
Restorative Justice Case Manager
Social Worker for Unaccompanied Minors

Poverty Reduction and Alleviation
Research and Data

Grant Writer
Program Director

Director of Giving
Policy Analyst

Social Services
Youth Development and Empowerment

Program Manager
Nonprofit Administrator
Case Manager

Youth Vocation Coordinator
Learning Designer
Youth Health Coordinator
*Note: While it may be possible to achieve these positions with only an MSW, employers may request additional education, certification, or relevant work experience.
---
Talent That Spans Industries
The skills obtained in an MSW degree have many applications in careers outside of social work, should you decide during your education that you want to take your talents to another industry. Consider, for example, how an understanding of human behavior and oppressive power structures can help politicians better serve their constituents or lawyers advocate for their clients. Even in a corporate setting, the mindset of a social worker can be of great value.
As Michelle Rojas, Columbia School of Social Work (CSSW) alum and co-founder of the Corporate Social Work Collective, writes, "[S]ocial workers view systems with a holistic lens and are active problem solvers — these are important skills that corporations need. Remember, companies consist of people who bring their whole selves to work, and should hire people who are experts in understanding how people work."
A 2018 report published by the Council on Social Work Education (CWSE) found that more than 17 percent of MSW graduates enter careers that do not have a traditional social work title but nevertheless use their MSW education and skills. Upon earning their degree, many MSW graduates, particularly those who enroll online, returned to organizations they'd worked for previously.
While additional experience or education may again be necessary, non-social services careers that can benefit from the skills obtained in an MSW program include:
Attorney
Benefits Specialist
Business Intelligence Analyst
Director of Operations
Early Childhood Educator
Human Resources Director
Leadership Development Coordinator
Manager of Student Recruitment
Nurse Practitioner
Political Organizer
Union Representative
UX/UI Engineer
---
Social Worker Skills
One can also see the value social workers bring by observing the ways people in other industries talk about their needs. The Harvard Business Review, for example, has article categories for age and generational issues, gender, cognitive bias, social movements, and inclusion and belonging, among many others. One of their recent articles even advocated for trauma-informed workplaces. Deloitte, meanwhile, points to "a continued massive deficit of social and emotional capabilities in today's workforce" that is at the heart of the workforce gap.
Essentially, many hiring managers are finding their job candidates lack the proper soft skills to work effectively as part of an organization, a notion confirmed by the Society for Human Resource Management (SHRM). Per the SHRM, hiring managers say the top soft skills missing from applicants are:
The ability to deal with complexity and ambiguity
Communication
Problem solving, critical thinking, innovation, and creativity
These categories align with the social worker skills that can be strengthened in an MSW program.
MSW Skills and Techniques
Active Listening
A necessary part of communication, active listening is a form of attentive engagement where the listener resolves to understand and retain what the speaker is saying. This helps the listener uncover the nuances of what is being said, even if the speaker does not specifically convey certain thoughts with words, and builds trust between the two parties.
Critical Thinking
Facing numerous complex situations on a daily basis, social workers must be able to analyze details provided by their clients and gathered from elsewhere and come up with supportive, unbiased solutions. This may involve creative, innovative, or otherwise out-of-the-box thinking.
Crisis Intervention
Directly tied to the ability to handle complexity and ambiguity, crisis intervention is immediate, short-term care for people involved in intense or traumatizing situations. Crisis intervention can involve getting someone to a safe environment, restoring a person's biopsychosocial equilibrium, preventing a person from harming themselves or others, or similar scenarios.
Cultural Competence and Humility
Clients come from a variety of backgrounds, meaning social workers must understand and respect any cultural differences they may encounter. Doing so allows them to provide care that is culturally and linguistically appropriate for the patient. This is known as cultural competence. Meanwhile, cultural humility directs social workers to self-awareness, keeping them cognizant of their privileges and biases.
In business, where workplaces and customer markets are diversifying, cultural competence and humility help ensure protocols, products, and services are appropriate for both staff and consumers.
Equity-First Mindset
Understanding that all people do not have the same abilities or access to the same resources is integral to social work. An equity-first mindset brings attention to inequalities and fosters empowering, anti-oppressive practice. In jobs outside of social work, prioritizing equity helps ensure reasonable accommodations, fair pay, and competitive benefits while avoiding discriminatory conduct.
Motivational interviewing (MI)
Developed by clinical psychologists William Miller and Stephen Rollnick, motivational interviewing encourages patients to explore any ambivalence they feel around changing certain behaviors. By trusting the client as the expert on their life and accepting them without judgment, the interviewer is best able to support the client based on their individual needs.
Trauma-Informed Care
Recognizing the diverse, widespread effects of trauma allows social workers to act in ways that help patients heal, regain their sense of safety, and feel empowered. In other workplaces, understanding and accounting for the impact of trauma can lead to better employee performance.
Self-Care
Essential for longevity in social work, self-care helps practitioners manage their stress levels and maintain their mental health, refilling their capacity to continue assisting others.
---
Bringing Change to Careers: The Evolution of Intersectionality in Social Work
Regardless of your career trajectory, using the intersectional practices learned in a social work master's program is a way to truly effect long-lasting, supportive change. You'll want an education that considers power, race, oppression, and privilege so that you are best prepared to support people's lived experiences once practicing full time.
As with many other humanitarian professions, social work in the West has been deeply affected by coloniality, the patterns of power and relation established by colonialism. These patterns have outlasted colonialism itself, maintaining a firm grip of influence across all areas of life, from education to wealth accumulation to healthcare and beyond. Social work is not immune from this phenomenon and, despite attempting to support and uplift members of marginalized communities, has often upheld both the systems and the ways of thinking that prevent equity. For instance, social researchers sometimes conflate correlation and causation in ways that perpetuate biases, which can have disastrous consequences when trying to address social issues. Even if the results of such research aren't specifically racist, sexist, or another form of stigmatization, they can nevertheless prevent social workers from accomplishing their goals.
For example, in her recent book, science journalist Angela Saini points to a 2017 study claiming asthmatic Black Americans suffer more from their ailment than White Americans due to their race. This study overlooks the fact that Black Americans are more likely to live in areas of higher air pollution (a form of environmental racism) and have less access to quality medical care (a form of medical racism). Relying on this research, a social worker would be ineffective in supporting long-term improved health outcomes for asthmatic Black Americans.
Though the issue of coloniality persists, social work leaders and educators are working to address the problem within their practices. Now, with a greater understanding of coloniality, as well as promotion of intersectionality and equity over equality, social workers are combining data with patient-centered practices, examining data for biases that may have slipped by, and remaining cognizant of the human lives at the center of their work. Matthea Marquart, Assistant Dean of Online Education at CSSW, provides a modern understanding of social work, calling it "the crossroads between science and social justice."
"Social work is the crossroads between science and social justice."
— Matthea Marquart, Assistant Dean of Online Education
As you explore your master's in social work degree options, look for a school that commits to a critical examination of race, power, privilege, and oppression. The more you prioritize these issues during your education, the more prepared you'll be to address them in the future. With the right education, being a social worker who supports true equity and change will become second nature.
---
About the Master of Science in Social Work Online Campus Program at Columbia University
At its core, social work is about justice. With an emphasis on advocacy, human rights, and real-world impact, the Columbia University Master of Science in Social Work Online Campus program can help you become a mindful, self-aware practitioner who is empowered and equipped to create meaningful change on behalf of their communities. Our program prepares you to embody the nine core competencies set by the Council on Social Work Education (CSWE) and is grounded in our PROP framework, examining power, race, oppression, and privilege in the world and the ways they affect us all. Our expert faculty and comprehensive curriculum grant you the exact same top-tier education as our Residential Campus program, which stands as one of the first and highest-regarded MSW programs in the world. With six pathway options, four method specializations, seven fields of practice, and hundreds of practicum placement sites across the United States, our MS in Social Work Online Campus lets you align your education with your individual professional goals.